Description
Hydraulic Jack and Jockey Wheel – Change a Caravan Tire Easily
Trail-A-Mate is an item that all caravaners should have in their arsenal.
Its simply a BRILLIANT PRODUCT, especially if you have a few years under your belt like myself. (Old Guy Warning) haha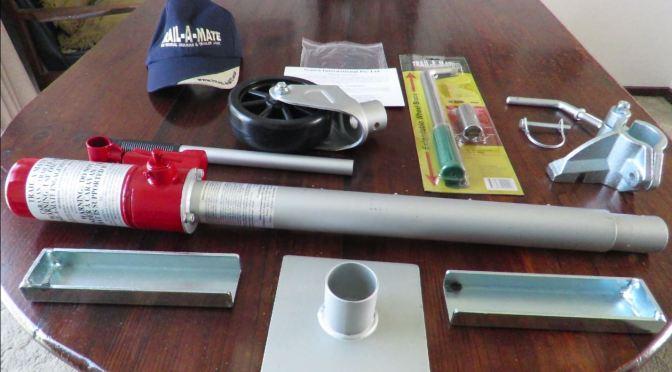 A Hydraulic Jack and Jockey wheel all in one combination.
Change your Caravans Flat Tire Easily and Safely
Trail-A-Mate Specs:
Minimum Height: 145mm
Maximum Height: 780mm
Working Load limit: 1,000kg
Whats inside the box:
1 Hydraulic Jack
1 Pair of jacking brackets (I forgot to mention in my video that these need to be securely fitted to your Caravan, trailer, etc.)
1 Lifting Clamp
1 Flat base plate
1 Jockey wheel assembly
1 Locating pin
1 Extendable wheel brace (extends 200mm)
1 Thin walled double ended wheel socket (19mm and 21mm)
1 Promotional cap
Also a one year warranty card, to complete the package
Mine was supplied by
The link above will take you directly to the trail a mate page if you would like to buy one for yourself.
Caravan RV Camping actually care about you, the customer.
Australian Based
Very fast to dispatch your orders
Plus they have good competitive prices.
I give them a big thumbs up, and I will be happy to deal with them again.
I am so glad I had my Mate handy, it made changing the tire so easy.
It took me approx 1 1/2 hours all up, removing the flat tire, driving to the nearest tire center, getting a new tire fitted to the rim, returning to my trailer, and fitting it.
For those of you who have tried to use a standard car jack for your trailer or caravan, I feel your pain.
P.S. I am extremely impressed with the Trail-A-Mate. Its heavy duty steel construction gives you the confidence that it is built to last, and I thoroughly recommend it.
Two days after I made this Video above I actually got to use the Trail-A-Mate for real.
Sadly, I didn't have a good camera with me, otherwise I would have replaced this video, with a real life demo.
Receipt for Tire bought two days after I made the Trail-A-Mate Video
<img src="/ima