11 Places to Find Clean Drinking Water when Free Camping
Description
Finding suitable drinking water when your free camping is a little easier than you might think.
I have 11 different sources for finding water listed below.

Please.... ALWAYS.... Ask first: 
Before taking water from the places I have listed below.

In some locations, the venues pay for their water to be carted in, so it's only fair to offer some money in exchange for 20 liters of water, or more.

The first location that comes to mind, is service stations.
Some schools will allow access to their water taps.
Information centres, (They sometimes have an onsite water tap available for travellers.)
Check out the local churches, they often have taps around the grounds, or water in tanks, and will not say no to a small donation in exchange.
Many Public Parks have water taps, so filling a 20 litre water bottle should not be a problem.
Some Rest Areas have water taps available. (Use the search on our site)

Showgrounds generally have water taps also.

Local Town Offices. (Pop in and ask where you can fill your tanks)

Creek water (You MUST.. Check Water Quality First, and Thoroughly Treat before drinking.)

Salt Water (You will need a Salt Water Reverse Osmosis system, to extract freshwater from salt water)

And a Last Resort - a Solar Still.
You can also use the search on our site, to find locations with water.
I highly recommend you use an inline filter on your hose connection.
Even though you have collected what you think is safe to drink, potable water, it's always a good idea to treat it first before drinking.


Water Taps are sometimes hard to find, even though they are in plain view.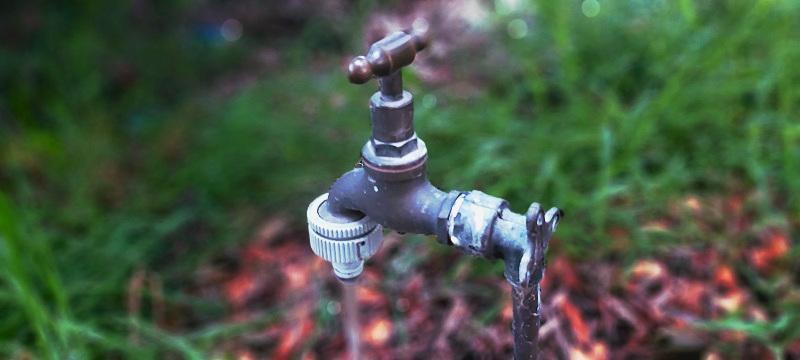 Bear in mind "the curse of tainted water".
If you fill your caravans water tanks with tainted water, you will have a very hard time removing the bad flavour, if at all.
So I suggest you taste the water first, before putting it into your caravans water tank.

---
One handy tool to purchase, is a
4 Way Vandal Proof Tap Key

, it's used for special taps you will find with no handle.
| | |
| --- | --- |
| Vandal Proof Hose Bib | 4 Way Vandal Proof Tap Key |
These special taps are used to stop people from turning them on, and wasting the water.
You will be able to buy a 4 Way Vandal Proof Tap Key, in any hardware store.

---
Another Must Have, is a suitable 20 litre jerry can or equivalent.
| | |
| --- | --- |
| 20 litre Food Grade Plastic Jerry Can | 20 litre Collapsible Fresh Water Container |
You can purchase a regular 20 litre water storage container, or get a 20 Litre Collapsible Water Container complete with a Tap.
Whichever you choose, make sure it's made from food grade plastic.

Make sure you have a food safe resealable container. 
A comfortable handle to carry your water with, will make your job of transferring to and from the water supply more enjoyable.
Sometimes you might be quite some distance from where you park your rig, to the water supply, so a comfortable carry handle is essential.



40 litre Portable Water Container with Wheels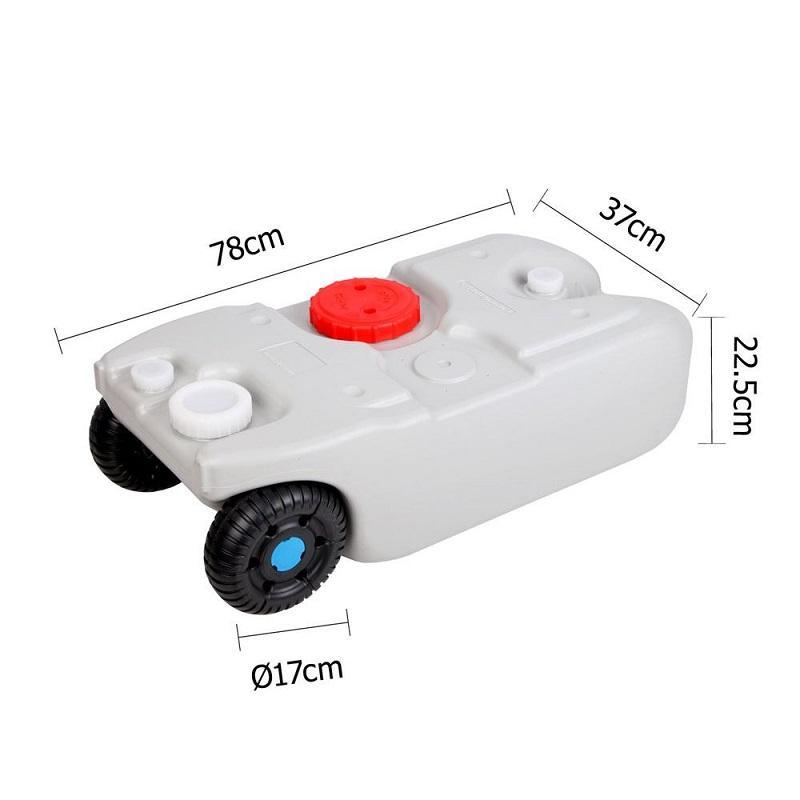 You can also find 40 litre portable food grade containers with wheels to make that journey to the tap a little less stressful, but it will be harder to decant into a smaller container, so a small 12v pump might be a better option, to fill your caravans tank.

---
Basic filling of your main water tanks. (Use only Food Grade Products)
You will need some food safe flexible blue hose.
A flexible funnel that fits your water input system.
Various Hose connectors. (There are two standard hose connector sizes available)

A 4 Way Vandal Proof Tap Key 
You can also use a 12v submersible pump and a length of hose, dropped into an open bucket, to move the water to your caravans water tank.

Handy hints.
Decant your 20 litre jerry can, to a smaller and more manageable 10 litre water container, then fill your caravans water tank.
You back will thank you.